Course details
【Japanese liquor or tea and food pairing】 7 items to leave course and drinks 6 pairing course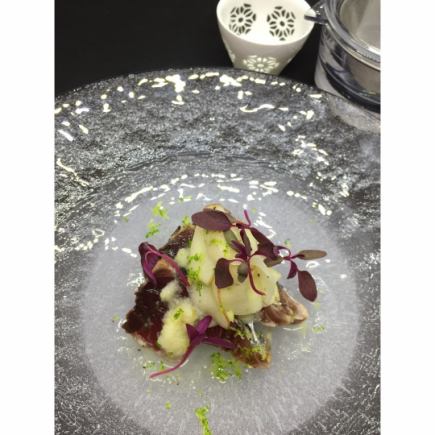 Reservation deadline

Until 19:00 on that day
Course menu
It is a short pairing course of Japanese sake or tea.
It is recommended for those who have more quantity with 10 items.
Based on the concept of "delicious happy time to you". Offering compatibility with Narashiba-style cuisine incorporating Japanese taste, we serve drinks all over the country.
"Seasonal white course" seasonal limited course up to September 22.
■ Gomi Eight Dimension
Please taste small quantities on the theme of "sweet, salt, umami, bitterness, acidity"
■ Marinated strawberry and apples Baked apple puree
"A dish made of straw-baked return of season, a marinated apple, a dish of apple puree that baked and drank sweetness, refreshing with the scent of bonito straw and acidity of apple"
■ Broiled shellfish Amequaine sauce bubble
"A dish that the texture of the roasted shellfish and the rice shrimp of the American cedar sauce, the sourness of the foam's foam are united.
The moment when three tastes are superimposed in the mouth, inside the mouth ... "
■ Crab and chestnuts and potato croquette placed on clouds (crab crimson croquette) Crab miso and black oozu sauce
"We added snow crab taste, sweetness of chestnut, texture of taro, and pancetta, clothes on beshamel sauce and made it to cliquetta.It is a superb gem loaded with a thick crab miso and black garlic sauce Call me "
■ 鼈 soup
"A piece of ingredients along the season, one of the fun of what is in each time"
■ Fish and two kinds of soy sauce
"Please enjoy the fresh fish of the season"
■ Yamagata bee low temperature cooked berry a sauce
"Keep the flavor of the lean part of Yamagata beef cold at a low temperature and boil down the delicious taste with a well-balanced acidity and sweetness with red wine and sauce together with Yamagata bee's ju, please enjoy the taste of simple finish material"
■ Risotto of the end
"Seasonal ingredients prepared with risotto"
■ Reward
"Time to slow down to the end with sweets and sencha"
■ Sencha for the season 3 Infusions
"Enjoy the sencha of the season from time to time"
We offer drinks that are compatible with each dish as a set.
Please understand beforehand that the contents of the course may be changed without notice depending on the purchase situation of ingredients.
2018/05/17 update